Give your child the best learning experience with a gifted education inspired curriculum.
Children need places of fun-learning and loving nurture, which can invoke a sense of wonderment, curiosity and playful discovery as they grow. Designed by a team of educational specialists, GUG Preschool's campus environment comprises a beautiful blend of learning corners and purposefully built facilities that engage children in meaningful experiences.
Join our exclusive Zoom session for parents to find out more about GUG Preschool conveniently from your home! Find out directly from our Founder & Head of Curriculum what makes the GUG experience different from any other preschool.
Learn about our 5PI curriculum that is specially designed to nurture the 5 Courage Skills in young children. Through incorporating the best teaching practices of Early Childhood Education, Gifted Education and Multiple Intelligences, we develop a child holistically and with higher order thinking abilities. 
It definitely warms our hearts to watch our children grow beyond boundaries to reach their great potential and excel through this gifted preschool education programme. For a sneak peek to how our teachers carry out their lessons, sign up today to join our Zoom session.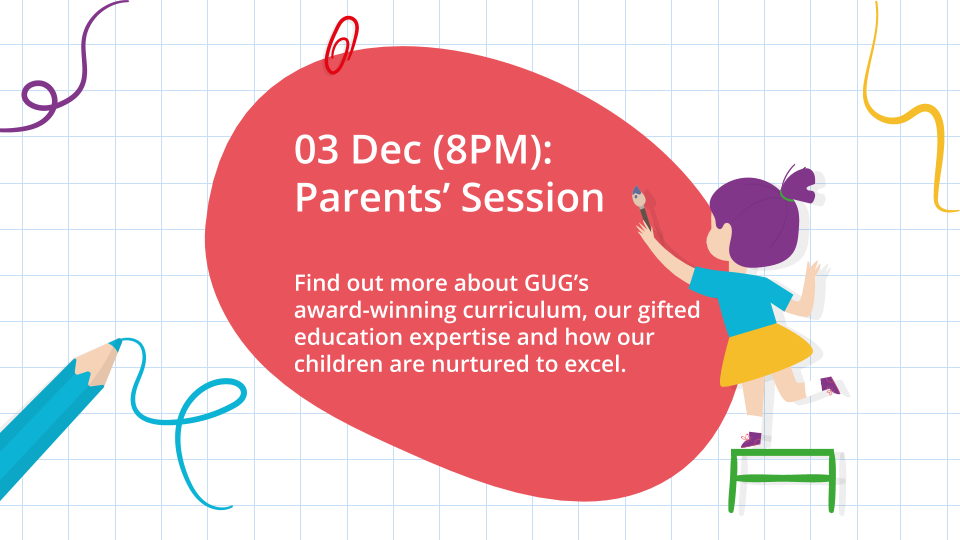 Sign Up For Our LIVE Session Here!​
We have updated our Privacy Policy in accordance to the Personal Data Protection Act. By submitting this, you give consent to Growing Up Gifted Preschool & its affiliates to contact you pertaining to the above-mentioned matter. You may also receive updates on Growing Up Gifted & its affiliates on happenings, events, and promotions.For more information about how we deal with your personal data, please refer to our Privacy Policy on the website.