Your child's entrance to a vast world of learning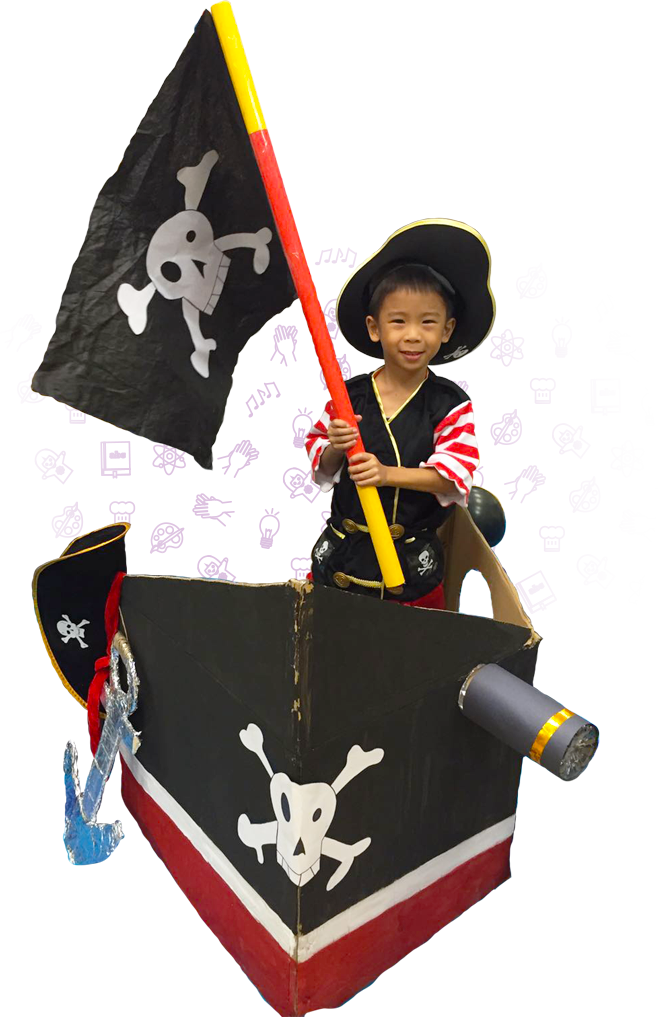 1, 2, 3, 4, learning makes us love school more!
Applying quality teaching and learning strategies, with exclusive GUG workbooks at every level, our programmes will not only prepare your child for formal schooling, but just as importantly, we will groom them into confident, compassionate and well-balanced individuals. As a world-class preschool, our thematic curriculum provides exciting stimulation and opportunities for reading, creative composition, cooking, artwork, drama and musical instrument performances, journaling and science experiments.

Playgroup
Activities designed to develop early reading and numeracy skills, logical thinking, creativity and joy for communication.
Intermediate Phonics that lay the foundations for literacy through actions, giggles and fun! Promoting optimal growth with playful rhymes and story drama, science and cooking experiments, music and movement, art and craft.
Multi-sensory discoveries and activities including tracing an ant trail, constructing a collage with fresh flowers, and creating hair-raising static electricity.
Introduction to Chinese language through stories, songs, craft, storytelling and games.
N1 & N2
Richly creative and stimulating, designed to build focus through playful learning.
Promote strong reading and writing skills with Intermediate Phonics strategies including award-winning Zoophonics®, Smart Phonics Storybooks and Creating Readers & Writers workbooks.
All-rounded activities that promote holistic development, confidence, self-esteem and social skills.
Exciting off-site adventures to reinforce and extend learning experiences beyond the classroom.
Daily 45 minutes of Mandarin Appreciation to deepen comprehension and vocabulary through Chinese stories, songs and rhymes.
K1 & K2
Advanced Level curriculum designed for higher thinking and learning, with a holistic approach that empowers students with strong academic skills, character and positive mindset to confidently take on primary schooling and even life beyond.
Students think expansively, analytically, and with consideration for others and the environment.
Exceptional focus on language, reading and writing, supported by highest quality books and resources.
Comprehensive coverage of math, sciences and humanities with high fun factors.
Weekly social studies of courageous personalities and other positive role models to promote general knowledge and character development.
Various genres of music including jazz, classical, country, rock and swing are introduced through songs, percussion and dance. Children learn to play the keyboard, wood and wind instruments with staged performances.
Highly acclaimed Robotics & Coding STEM programme develops numeracy proficiency, resilience and critical thinking, and promotes innovation, design, and clever problem-solving skills.
Thematic adventures and off-site expeditions where children engage in inspiring science exploration, stories, creative writing, games, craft, cooking, and drama.
High-efficacy Chinese lessons with customised GUG readers and workbooks prepare your child well for Primary 1 syllabus.