Testimonial

"I really like GUG's programme and curriculum. The reader books are great. Chengxun can actually blend the words and read the whole book without assistance! Chengxun and his classmates learn not only academically but in terms of manners and character development."

Mother of Chengxun (N2)

Located in the heart of Tampines, this GUG Preschool is within walking distance of nearby malls, MRT stations and bus interchange. Here, your child will embark on an experiential educational journey, surrounded by smart learning materials including our highly acclaimed GUG Phonics Story Readers, and under the guidance of a dedicated team of educators!
This wondrous learning space, equipped with a Sound Studio, a Creative Zone, a Sensory Playroom and even an indoor Imagination Playground, was specially crafted by our team of educational experts to allow children to learn through engaging their senses and honing their thinking skills.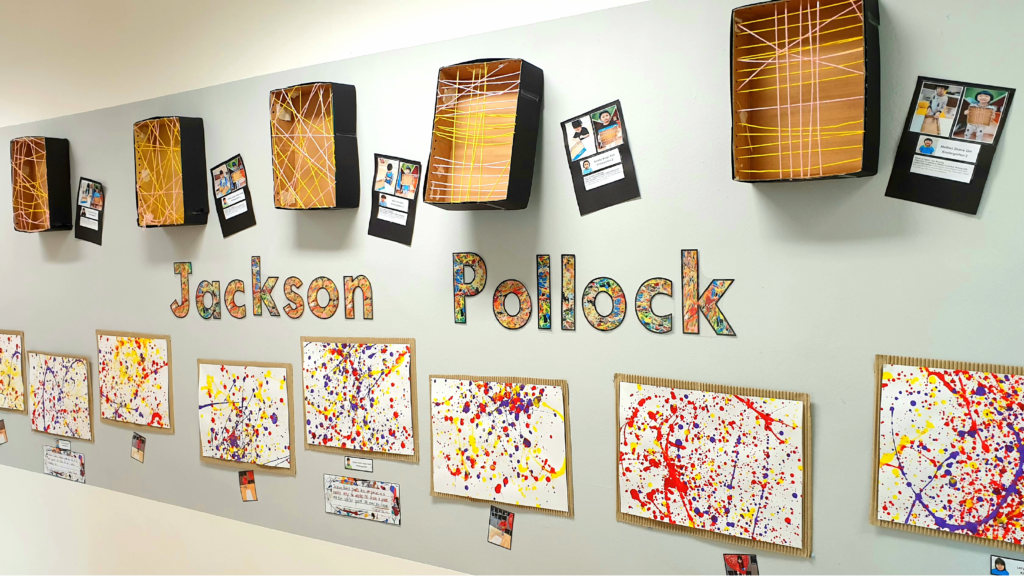 The large windows bathe the classrooms in natural light daily, showcasing the large open spaces which are free from clutter and where every learning material is considered for its purpose. Take a look in the classrooms and you'll notice the children's handicrafts and creative writing pieces proudly displayed all around. Although GUG focus is on building strong literacy skills in the early years, our unique approach takes on the multi-sensorial strategies of gifted education and multiple intelligences. As such, your young one will be immersed in nothing less than a fun learning and playful discovery journey! In this nurturing environment, they will not only develop their intellect, physical abilities and creative thinking but also their social and communication skills as they learn and grow alongside their classmates.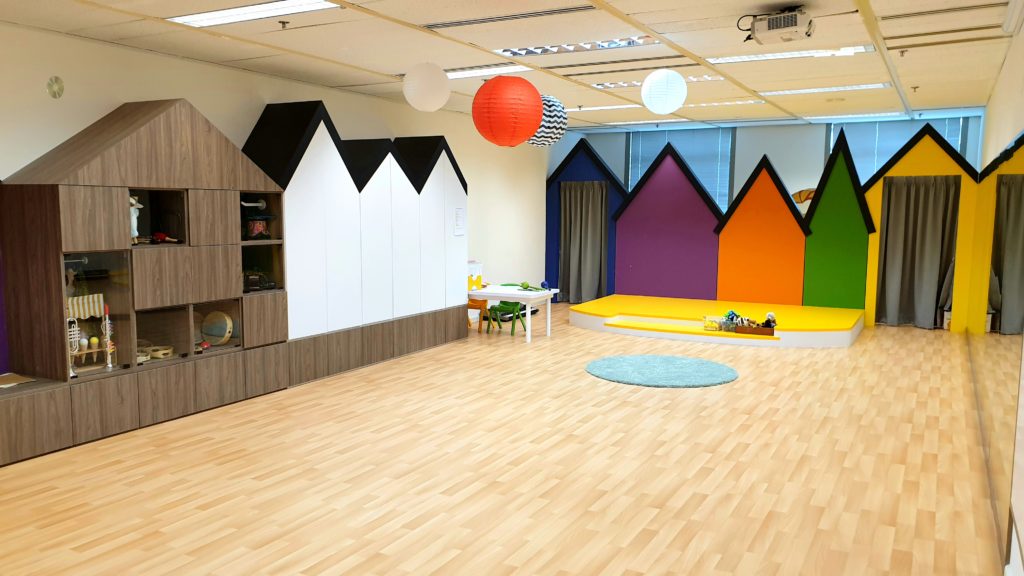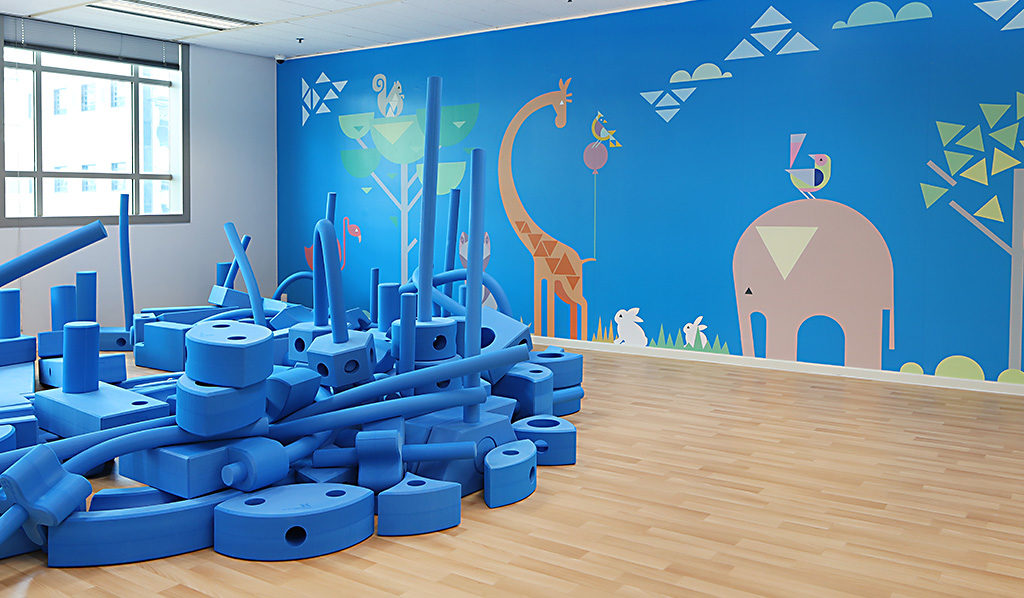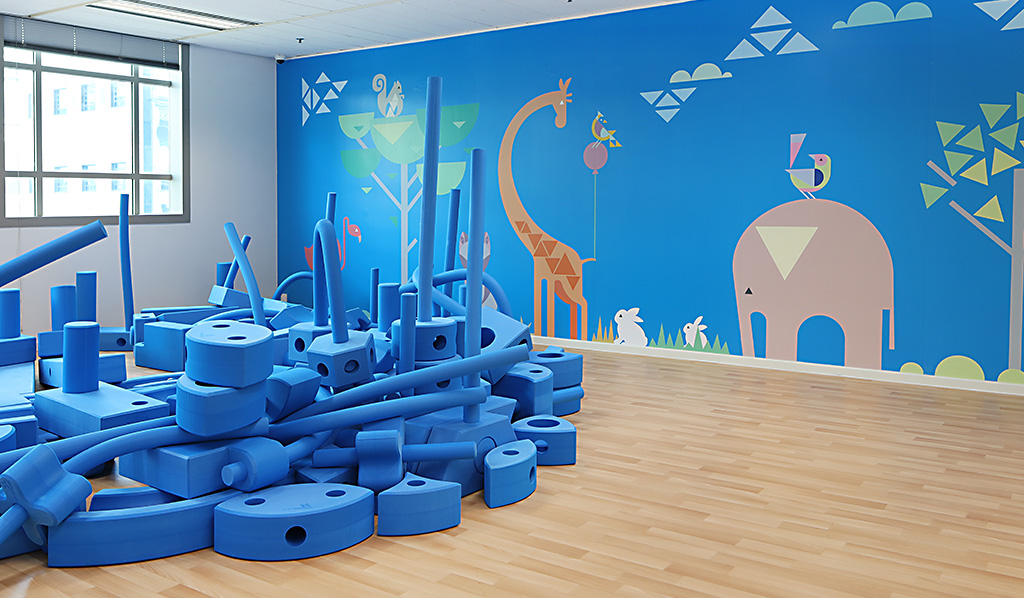 The centre was carefully constructed to inspire courageous thinking and innovating. Despite being in an office building, our children get to enjoy a fully air-conditioned indoor playground that is filled with life-sized building blocks. The unique shapes of these soft blocks allow children to build, create and narrate their own stories entirely from their imagination. In the sensory play room, tactile discovery and adventures take center stage. Fully furnished with a light box, sand pit, climbing frame, aball pit slide and tables filled with sensorial elements, serious learning has never been more fun!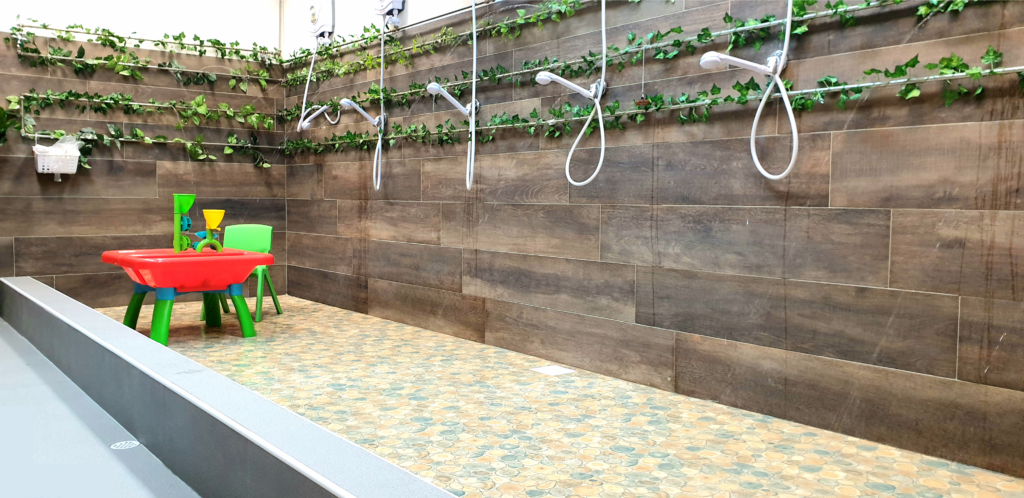 To complete the learning suite, children enjoy immense water play fun in our specially outfitted Sprinkler Pools. The spacious pool area allow for creative thinking and problem-solving skills to develop. Once water play is over, children willhead over to the grooming center where they learn life skills such as packing their items, using the hair dryers to dry off and ensure they look presentable.
With ample learning facilities and a strong bilingual curriculum, the best start of your child's early years begin here. Under our educators' guidance, endless discoveries are waiting to be made and a love for lifelong learning is to be nurtured. Make a visit to GUG Preschool @ Tampines today!